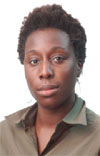 Molecular Medicine 2013
Undergraduate Institute: Obafemi Owolowo University
Research Advisor : W. Jonathan Lederer, M.D., Ph.D.
Current Position: Postdoctoral Fellow, University of Maryland, School of Medicine
Description of Research
My lab focuses on Ca2+ signaling in living cells. By combining confocal, two photon or wide-field microscopy with whole cell patch clamp techniques, we have been able to investigate the effects of subcellular and intracellular Ca2+ concentration ([Ca2+]i on cellular function. Diverse additional tools are used as needed including flash photolysis of caged chemicals, multi-photon uncaging, single channel examination in planar lipid bilayers and by patch clamp, immuno-fluorescence imaging, use of cells from transgenic and gene knockout animals, and use of primary cultures and co-cultures.