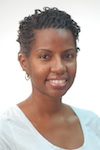 Epidemiology 2013
Area of Doctoral Study: Epidemiology
Undergraduate Institute: University of Maryland , Baltimore County
Research Advisor: Denise Orwig, Ph.D.
Current Position: Science Educator, Prince Georges County Public School System
Description of Research
My dissertation is entitled "The Relationships Between Depressive Symptoms, Inflammatory Cytokines and Lower Extremity Function after Hip Fracture". Analyses are based on a sample drawn from the first 200 community-dwelling men and women enrolled in the 7th longitudinal cohort from the Baltimore Hip Studies Program. All patients are aged 65 and older and have undergone surgical repair for a new, non-pathological hip fracture in one of eight Baltimore-area hospitals. I am specifically interested in whether there are bi-directional associations between levels of depressive symptoms and inflammatory cytokines (interleukin-(IL-) 1 receptor antagonist, IL-6, and the soluble tumor necrosis factor alpha receptor) over the 6 months following surgical repair. I am also investigating whether inflammatory cytokines mediate the association between depressive symptoms and functional recovery post-fracture and whether depressive symptoms mediate the association between inflammatory cytokines and functional recovery post-fracture.