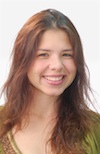 Epidemiology and Human Genetics
Area of Doctoral Study: Epidemiology
Undergraduate Institute: University of Florida
Research Advisor: Gordon S. Smith, M.B., Ch.B., M.P.H.
Description of Research
My research is focused the risk of fatal overdose in trauma patients compared to the non-injured population. I am also interested in how different substances, such as tobacco, prescription and illicit drugs, and alcohol, may affect the risk of fatal overdose among surviving trauma patients for up to five years after injury. I am also exploring the association between neighborhood socioeconomic status at the block level and different types of narcotic overdose death (heroin vs. prescription narcotic).