SkillSoft Spotlight Course of the Week ~ For Employees
Redefining Yourself after Organizational Change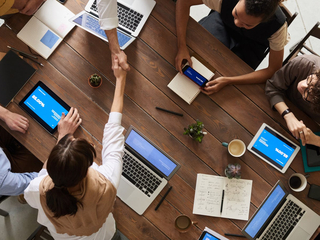 SkillSoft Spotlights focus on just-in-time online learning that supports you in navigating complex challenges in personal and professional life, helps you to increase your effectiveness, and to improve your relationships. Each course is 30 minutes or less and is curated to provide tools, strategies, and practices to accelerate your success.
This week's spotlight course is Redefining Yourself after Organizational Change (29 min).
Organizational change is inevitable, so you need to be resilient and adapt to the new opportunities it presents. It's important to not just survive organizational change. With resilience, flexibility, and perseverance, you can thrive in it and propel your career forward.
In this course, you will learn the importance of adapting to organizational change, as well as the essential skills needed to handle it. The course details the best practices of building self-motivation and introduces the idea of reframing as a coping method. You'll learn to turn resistance to change into acceptance. Finally, this course covers the importance of capitalizing on the career opportunities presented by organizational change.
Participants will learn to:
recognize how to use key skills to effectively handle change
identify strategies for building self-motivation
recognize statements that demonstrate a person is moving from resistance to acceptance
recognize examples of reframed attitudes toward change
identify ways you can reinvent yourself after change
recognize the benefits of proactively capitalizing on organizational change
recognize the elements of a career plan
Using Internet Explorer or Google Chrome
,
Login to SkillPort
using your FULL UMBC email address for both the username and password boxes.
Once logged in, simply type the name of the course in the search bar. 
Need Login Assistance? Email hrtraining@umbc.edu to set up your account and to help with login difficulties. UMBC faculty and staff accounts are set up within 1 month of hire.
FOR MORE INFORMATION:
Visit our UMBC SkillSoft page for information on UMBC's curated role and topic-based certificate tracks as well as professional industry certifications that align with SkillSoft courses.