SkillSoft Spotlight Course of the Week ~ For Supervisors
Encouraging Team Communication and Collaboration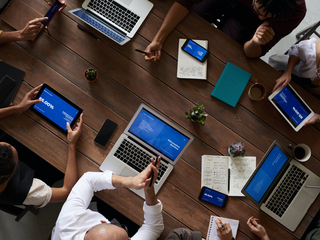 SkillSoft Spotlights focus on just-in-time online learning to help you more masterfully manage yourself personally and professionally, improve your effectiveness in managing your work, and support you in skillfully leading your teams. Each course is 30 minutes or less and is curated to provide tools, strategies, and practices to accelerate your success.
This week's spotlight course is Encouraging Team Communication and Collaboration (30 min)
Managing teams successfully involves ensuring that team members can communicate with you and with one another and that they will collaborate effectively as a team. To achieve this, clear channels of communication are required for both on-site and virtual teams.
In this course, you'll learn how to demonstrate team leadership by encouraging effective communication and overcoming communication problems. You'll explore strategies for encouraging team collaboration. Finally, you'll learn about tools and technologies that are commonly used for virtual teamwork and key considerations for establishing virtual communication guidelines.
Participants will learn to:
match characteristics of healthy team communication with examples
recognize strategies for overcoming the team communication issues of overcriticism and groupthink
recall strategies for dealing with interrupters and noncontributors
identify examples of strategies for fostering collaboration through team-oriented assignments
recognize strategies for using team-oriented messages to foster collaboration in action
classify examples of virtual team technologies as being for communication or conferencing
identify key areas for consideration when setting guidelines for virtual teams
recognize techniques for improving team collaboration through communication
Using Internet Explorer or Google Chrome, Login to SkillPortusing your FULL UMBC email address for both the username and password boxes.
Once logged in, simply type the name of the course in the search bar. 
Need Login Assistance? Email hrtraining@umbc.edu to set up your account and to help with login difficulties. UMBC faculty and staff accounts are set up within 1 month of hire.
FOR MORE INFORMATION:
Visit our UMBC SkillSoft page for information on UMBC's curated role and topic-based certificate tracks as well as professional industry certifications that align with SkillSoft courses.