SkillSoft Spotlight Course of the Week ~ For Supervisors
Bridging the Diversity Gap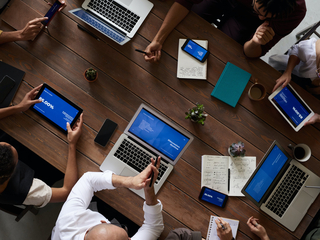 SkillSoft Spotlights focus on just-in-time online learning to help you more masterfully manage yourself personally and professionally, improve your effectiveness in managing your work, and support you in skillfully leading your teams. Each course is 30 minutes or less and is curated to provide tools, strategies, and practices to accelerate your success.
This week's spotlight course is Bridging the Diversity Gap (27 min)
Without a diverse workforce, organizations run the risk of viewing things from a very limited perspective. The organization provides the structure for operation, but it's the individuals within that organization who carry out the mission of the organization. To get the most innovative solutions from the individuals in your business, you need to create a workplace that embraces inclusion and avoids bias and stereotyping. This course focuses on what diversity is and how to leverage the diversity within the organization. You'll also explore the barriers, such as unconscious bias, that must be overcome to create a diversified and inclusive working environment.
Participants will learn to:
identify key concepts related to diversity in the workplace
match the approaches organizations use to deal with diversity to appropriate actions
identify how companies can benefit by embracing diversity
recognize how prejudice and stereotypes can cause barriers for some employees in the workplace
recognize the implications of cultural expectations on diversity in the workplace
identify reasons organizations may encounter resistance to diversity in the workplace
recognize the importance of workplace diversity and the barriers that must be overcome to embrace its benefits
Using Internet Explorer or Google Chrome, Login to SkillPortusing your FULL UMBC email address for both the username and password boxes.
Once logged in, simply type the name of the course in the search bar. 
Need Login Assistance? Email hrtraining@umbc.edu to set up your account and to help with login difficulties. UMBC faculty and staff accounts are set up within 1 month of hire.
FOR MORE INFORMATION:
Visit our UMBC SkillSoft page for information on UMBC's curated role and topic-based certificate tracks as well as professional industry certifications that align with SkillSoft courses.