UMBC Together Weekly Spotlights
Week of June 8th - 3rd Edition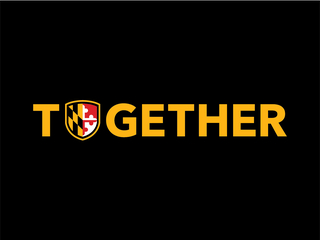 Call To Action
Everyone can make a difference. Everyone can be part of the change. We all need to come together and do our part to fight against institutionalized and systematic racism, oppression, and police brutality. Black Lives Matter.
Here are a few things you can do:
Practice allyship

Live what you say you value

Research and educate yourself on both historical and contemporary issues that have led to current events

Listen! Actively and learn how to share space. Center Black voices

Have the hard conversation with family, friends, and others around you

Use your voice to speak up and speak out!  

Support Black and minority-owned businesses

Seek ways to utilize and integrate on/off-campus diversity, equity, and inclusion-based resources in your office, department or everyday life

Check-in, call-in, and speak-up

Understand that silence and inaction is complicit

Recognize, understand and disrupt White privilege
(NEW) Highlighted Stories
Our Retriever community members are reaching together in this challenging moment to build community and support each other. Here are some recent stories by our community members.
Read more: UMBC stories 
Have a story to share? Send it to our together@umbc.edu 
Events & Engagement
FOUR PART SERIES Resilience Building Webinar, Week 1
Monday, June 11, 2020 | 11:00 a.m. - noon | Online
Join the Counseling Center to learn evidence-based skills to reduce distress and build resiliency. The You've Got This Workshops are based on mindfulness and Dialectical Behavior Therapy (Linehan, 2015) and scheduled for four topics. Each meeting will include a brief mindfulness exercise.
Black Faculty and Staff - Community Care Space
Monday, June 8, 2020 | 4:00 - 5:00 p.m. | Online 
With the experience of enduring both a health pandemic and a racism pandemic, we can quickly feel overwhelmed, angry, and even hopeless. We invite you to join BFSA for a facilitated discussion focusing on self-care, healing, shared processing, and resource sharing. To attend, you must be a member of the Black Faculty and Staff Association myUMBC group
Women of Color Collective: A Healing and Solidarity Space
Tuesday, June 9, 2020 | 4:00 - 5:00 p.m. | Online
The WoCC is holding a healing space that will center community support + solidarity and self-care for UMBC women of color. This healing and solidarity space will take place online and the meeting link will be sent to the WoCC list-serv over the next several days. If you are not on the list-serv and would like to attend this meeting, please email womenscenter@umbc.edu. *This event is closed to self-identified women of color.
Meditation in Nature
Friday, June 12, 2020 | 11:00 a.m. - noon | Online
Join us for a Meditation in Nature session where we combine mindfulness meditation, sensory awareness activities, and the reflective practice of journaling in nature. The natural world is a powerful teacher for how to be with change. As we physically distance, this doesn't mean that we isolate indoors behind screens. Join us in this reflective session as we unplug, reflect, and connect with ourselves, each other, and the wisdom of the natural world which is always present and available to us.
Full list of UMBC Events.
Resources 
We have launched the Retrievers Return Roadmap which shares our approach to fall planning. The website will be updated regularly as details emerge. 

June Religious, Cultural and Ethnic Holidays and Days of Observance Calendar
Tip of the Week: Content visibility on the UMBC Together Website
Have you posted content on your myUMBC group page that is not showing up on the UMBC Together website? Currently, the UMBC Together website pulls from all UMBC events posted through public myUMBC pages. To view your accessibility settings, click on the settings tab of your myUMBC group page and scroll to the bottom of the page. If the page is closed or private it will not feed through the UMBC Together website. If you have questions or want to change accessibility settings, we encourage you to email Collier Jones at collier@umbc.edu.
Contact Info 
Questions, comments, feedback? Contact us. 
Website: umbc.edu/together 
Email: together@umbc.edu 
Social Media: #UMBCTogether