SkillSoft Spotlight Course of the Week ~ For Supervisors
Influencing Through Positive Leadership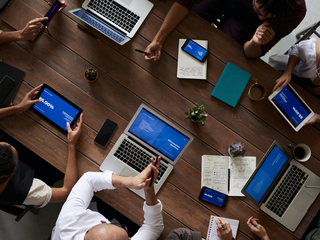 SkillSoft Spotlights focus on just-in-time online learning to help you more masterfully manage yourself personally and professionally, improve your effectiveness in managing your work, and support you in skillfully leading your teams. Each course is 30 minutes or less and is curated to provide tools, strategies, and practices to accelerate your success.
This week's spotlight course is Influencing Through Positive Leadership.
Influencing Through Positive Leadership (26 min)
An organization's social and political landscape can provide opportunities for positive leadership, influencing others in order to accomplish team and company goals. In this course, you will discover methods and strategies for effectively influencing a team to accept your ideas. You'll be introduced to the importance of political awareness and the essential skills involved in utilizing positive influence, while avoiding the negative, when persuading others. You'll also have an opportunity to practice methods for influencing effectively and ethically.
Participants will learn to:
discover the subject areas that will be covered in this course
recognize key concepts related to the use of influence
identify techniques for influencing people
recognize the importance of utilizing positive organizational politics
recognize the importance of avoiding negative organizational politics
recognize positive political actions that create strong relationships
identify actions that use positive politics to promote unifying goals
Knowledge Check: Utilizing Positive Influence
TO LOGIN:
Using Internet Explorer or Google Chrome, Login to SkillPortusing your FULL UMBC email address for both the username and password boxes.
Once logged in, simply type the name of the course in the search bar. 
Need Login Assistance? Email hrtraining@umbc.edu to set up your account and to help with login difficulties. UMBC faculty and staff accounts are set up within 1 month of hire.
FOR MORE INFORMATION:
Visit our UMBC SkillSoft page for information on UMBC's curated role and topic-based certificate tracks as well as professional industry certifications that align with SkillSoft courses.