SkillSoft Spotlight Course of the Week ~ For Supervisors
Establishing Effective Virtual Teams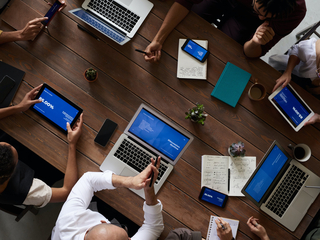 SkillSoft Spotlights focus on just-in-time online learning to help you more masterfully manage yourself personally and professionally, improve your effectiveness in managing your work, and support you in skillfully leading your teams. Each course is 30 minutes or less and is curated to provide tools, strategies, and practices to accelerate your success.
This week's spotlight course is Establishing Effective Virtual Teams.
Establishing Effective Virtual Teams (30 min)
Building and managing teams is enough of a challenge when everyone is in the same location. Collaboration when working on a team that's virtual requires even more commitment. In this course, you'll learn about teamwork and team leadership when working on a virtual team. You'll cover remote management and tactics for communication, assessment, and meetings for virtual teams.
Participants will learn to:
describe the main areas of concern for a remote manager
recall guidelines for establishing relationships with team members
list communication areas in which virtual managers need to establish team standards
categorize communication tools as synchronous or asynchronous
recall strategies for supporting and encouraging virtual team members
recognize guidelines for managing performance among virtual team members
recall guidelines for managing remote team meetings
recognize strategies for establishing and managing a virtual team that can work effectively together
Assessing and Managing Virtual Team Performance (3 min) - video
Guidelines for managing performance among virtual team members
Team Facilitation:
In the event that you choose to use this video as quick professional development for your team, consider facilitating a conversation afterwards to help your team reflect on the learning,
 discuss strategies presented, and determine any applications to your work.
Sample Team Facilitation Questions:
What stood out to you in the video?

Was there anything that resonated with your own lived experience here or in other previous positions or organizations?

How did you feel about the solutions or strategies presented?

What would you have done in this or a similar situation?

Where do you see application in our environment? Do we have similar challenges and if so, how do they show up uniquely in our department?

Where have we already been successful in the past and what has contributed to this success?

Given or culture and our shared values, what suggestions do you have for mitigating these challenges in the future?
TO LOGIN:
Using Internet Explorer or Google Chrome, Login to SkillPortusing your FULL UMBC email address for both the username and password boxes.
Once logged in, simply type the name of the course in the search bar. 
Need Login Assistance? Email hrtraining@umbc.edu to set up your account and to help with login difficulties. UMBC faculty and staff accounts are set up within 1 month of hire.
FOR MORE INFORMATION:
Visit our UMBC SkillSoft page for information on UMBC's curated role and topic-based certificate tracks as well as professional industry certifications that align with SkillSoft courses.